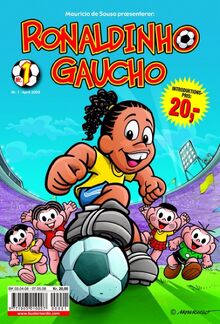 Ronaldinho Gaucho is a little boy who is made up to be a mimick after the famous fotballer Ronaldinho form Brazil. He play for Barcelona and AC Milan when he was at his best.
Ronaldinho Gaucho always wear the brazilian national team kit. Ronaldinho is a master to Get in trouble. His mother is quite strict. Then it's good to have god friends to talk with. Ronaldinho Gaucho got two very good friends.
Ronaldinho Gaucho is always near a ball. He shoots very hard. He has broken some fences in the neighborhood with his ball.
The cartoon of Ronaldinho Gaucho comes out one time every month. It's the football magazine Kickerz who creates the cartoon.